MyMachine is a unique inter-generational co-creation process: in one school year:
Step1: Primary School Children invent a "Dream Machine" (IDEA). Anything goes, as long as they really, really want it.
Step2: University Students (engineers, product designers, digital designers etc.) step in to translate that into a CONCEPT.
Step3: Technical Secondary Students make a WORKING PROTOTYPE.
Students learn that having ideas is important and fun. They learn that you can bring any idea to life. They learn that you can do this by collaborating, respecting each other's talents, being persistent and resilient. Whether their Dream Machine is something fun, personal, for a loved one, for their community or to tackle a global issue, it all starts with building the creative confidence that your ideas matter, and can make a difference!
At the same time, MyMachine is an organised free haven in the education system, engaging educators to participate in project-based-learning.
Our mission:
The MyMachine Global Foundation is a non-profit organisation eager
to make an impact on communities around the world by enabling young people to drive their own futures, to become the self-motivated, problem solving, creative, self-employed or team workers that companies, organisations and the world are looking for;
to make an impact on all students involved by bringing them 21st-century skills that will serve them for life. When students see that what's happening in the classroom can impact the real world, they see their education in a whole new light. They learn how they can contribute to society, rather than just be a consumer of it;
to make an impact on teachers and professors involved and show them how, through project-based learning in an open education context, they can contribute to better the education system;
by bringing our unique, multi-award-winning and proven MyMachine 3-step methodology around the globe, to strong local driven partnerships. And of course, because it's so much fun to bring your dream machine idea to life!
The Challenge
We are at the beginning of a revolution that is fundamentally changing the way we live, work and relate to one another, which the World Economic Forum calls The Fourth Industrial Revolution.
One thing is clear: the old know-how is falling short. Twenty years into this century, we need new answers, new ideas, new concepts. And these come from people who are confident to use their imagination, to think outside of silos and to be inspired by the possibility to improve our society; for some, it is an idea for a solution in their personal life or in their community, while others come up with a solution for a global challenge. But where do these people get their ideas from? The answer is, they are in and around us. It is up to us to open our eyes and minds to it.
It is very wrong to say that only a handful of intelligent, brave and lucky women or men are capable of being successful in bringing new ideas to life. The problem is that most of us have never learned this at school or in our homes, and we most likely work in an environment that doesn't allow new ideas to pop up and grow.

These challenges we face today require a fundamental change in how we prepare students for their adult lives. The challenge is that many people when they graduate, infected by the outdated 200 years old context of the education system, have lost the ability to understand how they can be creative, problem-solving team-players and how to take on an idea and bring it to life. That's because we still run systems where mistakes are the worst thing you can do.
In times like these, it is not just important to look for short-term ideas, but it is imperative to invest in long-term solutions. The most powerful one would be to give young students -in a safe environment like education- the possibility to express their ideas, no matter what (small, big, personal, global) and learn how to bring those ideas to life.
According to the UN World Population Dashboard, 50% of the world population is under 24. Imagine if we could tap into the creativity of those billions of young talents?
We bring them a growth mindset allowing them to dream and think bigger. Because the best version of yourself is the best tool you have to be a contributing team player to the human race. And we need a lot of strong team players since we face exigent concerns. The global challenges we face can't be won by some individual efforts. From climate change to inequality, from global health to poverty, these are all areas that require collective, long-term responses.
The biggest tool we have to turn this into success is education. But we need to change how we define success at school because that shapes students' mindsets and behaviours for the rest of their lives.
We know that taking their 'dream machine'-ideas seriously means the world to all participating children. Wherever life takes them, dance, engineering, plumbing, IT, fashion, law, filmmaking, management, community building, or space technology, one of the most instrumental skills to bring you happiness and to make you thrive, is learning that you can bring any idea to life. No matter the scope of your vision, whether it's something personal, local, or global, making it happen starts with the creative confidence that your ideas matter, that your ideas can make a difference. That is how we will see a lot more of us doing a lot more to shape this better future, we all need to design together.
https://www.mymachine-global.org
Read MyMachine Co-Founder Piet Grymonprez's article for Arianna Huffington's Thrive Global: click here to go to this article.

Read our book with a foreword by Sir Ken Robinson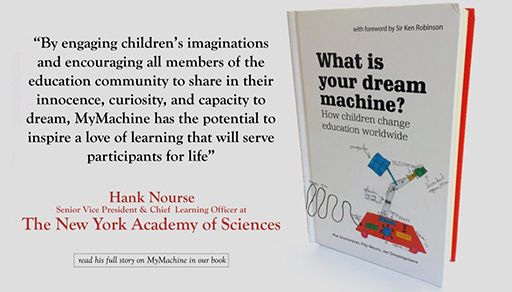 What Is Your Dream Machine? How Children Change The Education System Worldwide
out now worldwide and in many online stores, including Amazon: find your copy here: https://mymachine-global.org/what-is-your-dream-machine-the-book/
Growing our model on all continents
We grow our model in two ways:
by establishing local Chapters in different regions/countries around the world.
by inviting schools worldwide to join our annual MyMachine DreamsDrop Campaign.
This is how we have already organised over 1,350,000 student-hours in schools in Armenia, Australia, Belgium, Bolivia, Canada, Croatia, Cyprus, Ecuador, France, India, Italy, Kenya, Liechtenstein, Mexico, Morocco, Mozambique, The Netherlands, New Zealand, Norway, Poland, Portugal, Slovakia, Slovenia, South Africa, Spain, Turkey, USA, and Vietnam.
MyMachine is endorsed by a.o.:

United Nations World Summit Award
Australia Good Design
Corporate LiveWire
The New York Academy of Sciences
Harvard University
Fast Company
Sir Ken Robinson
Forbes
Lego Foundation
Qatar Foundation
Wise Qatar
Tom Vander Ark
Sir Richard Branson
Peter Gamwell
The William & Flora Hewlett Foundation
The European Foundation Centre
Agoria Belgian Technology Industry Federation
Voka Chamber of Commerce Belgium
Awards
Australia Good Design Award 2023

Corporate LiveWire Tech Education Initiative of the Year 2023
EdTech Digest's Global Leaders List 2023

Inducted to the HundrED Hall Of Fame
HundrED Innovator 2023
Reimagine Education Presence Learning Silver Winner Award 2023
HundrED Innovator 2022
Recognised by Fast Company as World-Changing Idea
HundrED Innovator Of The Year 2021
HundrED Innovator 2021
HundrED and LEGO Foundation Spotlight On Creativity

HundrED Innovator 2020
United Nations World Summit Award
Reimagine Education Presence Learning Gold Winner Award 2018
Designmanagement Europe Award

Lern Award
Belgian Chamber of Commerce Award
Most Entrepreneurial Higher Education Institute in Flanders (Howest for MyMachine)
Best Flemish Project bridging Economy & Education.
MyMachine was founded by Filip Meuris, Jan Despiegelaere and Piet Grymonprez.