Interested in this innovation?
Great! Our mission is to help innovations spread.
Contact the innovator here:
Bookmark the ones you like!
You can bookmark all your favorite innovations to your profile.
MyMachine is a unique collaboration of all educational levels to create dream machines invented by kids.
MyMachine
Belgium
3 educational levels co-creating: 1] Primary schoolchildren invent (IDEA) a 'dream machine'; 2] together with university students they design a CONCEPT for it; 3] and together with students from technical/vocational secondary schools they build a WORKING PROTOTYPE.
21st Century Skills
,
Creativity
,
Design Thinking
,
Entrepreneurship
,
STEAM
,
STEM
,
Co-creation
,
Design
,
Empowerment
,
Intergenerational
,
Joy And Wonder
,
Joyful Learning
,
Maker-centered Learning
,
MakerEd
,
Open Knowledge
,
Wonder
Introduction
MyMachine. Small Dreams, Big Ideas.
"We need inspirational, practical examples of the vitality of creativity, the dynamics of collaboration and the power of possibility. That's exactly what you'll find in this inspiring work of MyMachine"
Sir Ken Robinson, Creativity Expert
MyMachine is a unique inter-generational co-creation process: in one school year:
Step1: Primary School Children invent a "dream machine" (IDEA). Anything goes, as long as they really, really want it.
Step2: University Students (engineers, product designers, digital designers etc.) step in to translate that into a CONCEPT.
Step3: Technical Secondary Students make a WORKING PROTOTYPE.
While collaborating as peers, the students can use the expertise of local corporations & organizations that share a common view on STE(A)M, creativity, entrepreneurship, project-based, maker-centered learning.
MyMachine is an organised free haven in the education system in which students learn that having ideas is important and what it takes to bring an idea to life.
Our mission:
The MyMachine Global Foundation is a non-profit organisation eager
to make an impact on communities around the world by enabling young people to drive their own futures, to become the self-motivated, problem solving, creative, self-employed or team workers that companies, organisations and the world are looking for;
to make an impact on all students involved by bringing them 21st-century skills that will serve them for life. When students see that what's happening in the classroom can impact the real-world, they see their education in a whole new light. They learn how they can contribute to society, rather than just be a consumer of it;
to make an impact on teachers and professors involved and show them how, through project-based learning in an open education context, they can contribute to better the education system;
by bringing our unique, multi-award winning and proven MyMachine 3-step methodology around the globe, to strong local driven partnerships. And of course because it's so much fun to bring your dream machine idea to life!
The Challenge
We are at the beginning of a revolution that is fundamentally changing the way we live, work and relate to one another, which the World Economic Forum now calls The Fourth Industrial Revolution.
One thing is clear: the old knowhow is failing short. Twenty years into this century, we need new answers, new ideas, new concepts. And these come from people who are confident to use their imagination, to think outside of silos and to be inspired by the possibility to improve our society; for some it is an idea for a solution in their personal life or in their community, while others come up with a solution for a global challenge. But where do these people get their ideas from? The answer is, they are in and around us. It is up to us to open our eyes and minds to it.
It is very wrong to say that only a handful of intelligent, brave and lucky women or men are capable of being successful in bringing new ideas to life. The problem is that most of us have never learned this at school or in our homes, and we most likely work in an environment that doesn't allow new ideas to pop up and grow.

These challenges we face today require a fundamental change on how we prepare students for their adult lives. The challenge is that many people when they graduate, infected by the outdated 200 years old context of the education system, have lost the ability to understand how they can be creative, problem solving team-players and how to take on an idea and bring it to life. That's because we still run systems where mistakes are the worst thing you can do.
In times like these, it is not just important to look for short-term ideas, but it is imperative to invest in long-term solutions. The most powerful one would be to give young students -in a safe environment like education- the possibility to express their ideas, no matter what (small, big, personal, global) and learn how to bring those ideas to life.
This would mean we start preparing a new generation that is not afraid to give ideas the time to grow, even if the idea in the beginning is challenging or sounds impossible. The important reason behind it is this: just like in the upbringing of children, if -as a parent- you don't do the effort of listening to the -probably inconsistent- stories of your six year old, your child will most certainly not confide in you when they become teenagers and adults to come to you with the important stuff. Same goes for schools: if we do not succeed in running an education system in which young students can work on their own ideas, without putting them down as "stupid", "nobody wants this" etc., then they will most likely not grow up to become the engaged change makers we need.
http://www.mymachine-global.org
Read MyMachine Co-Founder Piet Grymonprez's article for Arianna Huffington's Thrive Global: click here to go to this article.
Read our book with foreword by Sir Ken Robinson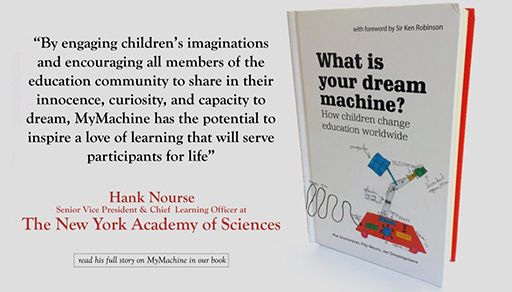 What Is Your Dream Machine? How Children Change The Education System Worldwide
out now worldwide and in many online stores, including Amazon: find your copy here: http://mymachine-global.org/what-is-your-dream-machine-the-book/
Impacting more then 11 thousand students on 4 continents
While still growing the model, MyMachine has reached out to schools in Belgium, France, Portugal, Slovenia, Slovakia, Norway, USA, India, Mozambique, Ecuador, Mexico and South Africa. We are currently prospecting potential new chapters in Brazil, USA and Finland.
MyMachine is endorsed by a.o.:

United Nations WSA
The New York Academy of Sciences
Harvard University
Sir Ken Robinson
Tom Vander Ark
Sir Richard Branson
Peter Gamwell
The William & Flora Hewlett Foundation
The European Foundation Centre
Agoria Belgian Technology Industry Federation
Voka Chamber of Commerce Belgium
Awards
United Nations World Summit Award
Reimagine Education Presence Learning Gold Winner Award
HundrED Innovator 2020
Designmanagement Europe Award
Lern Award
Belgian Chamber of Commerce Award
Most Entrepreneurial Higher Education Institute in Flanders (Howest for MyMachine)
Best Flemish Project bridging Economy & Education
Entrepreneurship Ambassador of the Province of West-Flanders.

MyMachine was founded by Filip Meuris, Jan Despiegelaere and Piet Grymonprez.
Read more ›
Innovation Overview
Not-for-profit
Organisation
Focus areas
21st Century Skills
,
Creativity
,
Design Thinking
,
Entrepreneurship
,
STEAM
,
STEM
,
Co-creation
,
Design
,
Empowerment
,
Intergenerational
,
Joy And Wonder
,
Joyful Learning
,
Maker-centered Learning
,
MakerEd
,
Open Knowledge
,
Wonder
Tips for implementation
Visit http://www.mymachine-global.org to find out more about getting involved!
Contact information
Media
See this innovation in action
Milestones
Achievements & Awards
August 2020
MyMachine keynote at HundrED Glocal in Hong Kong, in collaboration with the UNESCO Futures of Education Taskforce and Vince Siu
June 2020
MyMachine Co-Founder Piet Grymonprez invited by Arianna Huffington to start writing for her Thrive Global website
May 2020
MyMachine Expanding again: a new Chapter is starting in the French speaking part of Belgium
May 2020
MyMachine honoured as one of the 15 best education innovations in the world for the prestigious 2020 WISE Awards by the Qatar Foundation
April 2020
MyMachine honoured as one of the 6 best education innovations in the world for what Reuters refers to as the Nobel Prize for Sustainability: Katerva Awards 2020
March 2020
Our COVID-19 response: delivering a tailor made solution for each participating school
March 2020
Article in Mozambique media on the participation of the Escola Portuguesa de Mozambique partnering with MyMachine DreamsDrop
February 2020
MyMachine South Africa links to industry: University of Cape Town (UCT) civil engineering students discussing the production details with professional engineers in Stellenbosch
February 2020
Taking classes outside to invent dream machines, as MyMachine South Africa is expanding to Komatipoort for the first time
February 2020
Shining students at Schools in Mexico as they receive a personalised MyMachine diploma for the first time!
February 2020
Proud moment again for MyMachine Slovakia! National television station RTVS covers the Work In Progress Part 2 at TUKE University in Kosice.
February 2020
MyMachine presenting at HundrED Glocal in Atlanta (USA) on "Inspiring students to direct their own learning" along with HundrED Ambassador, Tyler Thigpen
February 2020
Východoslovenská Televízia made a beautiful coverage of the second Work-in-Progress event in Slovakia
February 2020
National television Televizia Raj documentory of first Work-in-Progress event in MyMachine Slovakia
February 2020
At a gala for economic development, Slovakian President Čaputová has explained MyMachine in her speech and talked about the importance of it for the future of Slovakia.
February 2020
MyMachine invited by the President of Slovakia: Zuzana Caputova. For the occasion, the president received a myBOO, the first real-life product by MyMachine
February 2020
The second largest employer of Eastern Slovakia, T-Systems Slovakia, invited MyMachine's Co-Founder Piet Grymonprez at their Experience lab to share MyMachine's knowledge on design thinking
February 2020
myBOO, the first real-life product of MyMachine, is featured at the European B2B event Prototyping 2020 & MNE in Belgium for 5 000 industry experts
January 2020
Exciting day as MyMachine Belgium's Work In Progress events are covered on National Television (VTM)
January 2020
MyMachine Belgium's Work-In-Progress events: 800 students having a final discussion on the concepts by the university students
January 2020
MyMachine Norway one of the flagship programs at the Agder Summit 2020 (Agdermøtet 2020)
January 2020
MyMachine DreamsDrop co-creation of dream machines with schools in Mexico, Ecuador, South Africa, Mozambique, India and Belgium
December 2019
Exciting day ahead as MyMachine Portugal will be featured on National Television in Portugal: RTP, Rádio e Televisão de Portugal.
December 2019
Article on MyMachine Slovakia in national education magazine DOBRA SKOLA
December 2019
MyMachine book now also available in the Belgium's biggest bookshop-company with 183 shops across the country.
December 2019
MyMachine Slovakia was invited to the live show of Radio Regina to talk about the impact of MyMachine on students, teachers, companies and the education system.
December 2019
myBOO (chase away bad ghosts machine) is the first real-life product (for children) extracted from the MyMachine process. It goes on sale worldwide to support our cause.
November 2019
MyMachine Slovakia on national TV. Wonderful documentary by Vychodoslovenska TV on the first step in the MyMachine methodology in this particular school in Slovakia.
November 2019
MyMachine Work-In-Progress Event in Norway: primary school students doing final inspection on scale models designed by the university students
November 2019
Expanding our activities -via our MyMachine DreamsDrop campaign- to Mexico, Ecuador, Mozambique and India.
November 2019
Very proud to be a HundrED 2020 Innovation
October 2019
MyMachine Book Launch at biggest international literature festival in Portugal: FOLIO
October 2019
Open Call MyMachine DreamsDrop: schools worldwide drop dream machine ideas on our map &we build them
July 2019
Impacted more then 10.000 students on 4 continents in 13 countries so far
June 2019
Harvard University prof. Christina Smiraglia keynote at An Evening With MyMachine in Brussels with stakeholders from business, education and goverment
May 2019
In collaboration with Ingram our book - with foreword by Sir Ken Robinson- is now available worldwide
July 2018
Forbes runs article on MyMachine
June 2018
Tom Vander Ark (Getting Smart, Director Education at Bill and Melinda Gates Foundation) keynote at MyMachine Exhibition and industry event in Belgium.
December 2017
Winning the Reimagine Education Presence Learning 2018 Gold Winner (USA), referred to as Oscars of Education
March 2017
Richard Branson endorses MyMachine
September 2010
Winning the Design Management Europe Award
September 2009
Received the United Nations World Summit Award
Map
Spread of the innovation