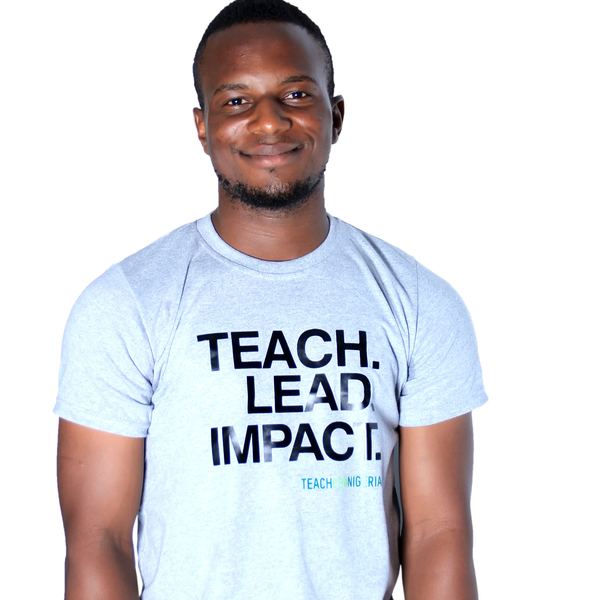 Ambassador
Oladimeji Fatoki
Nigeria
I am an HundrED Ambassador based in Nigeria. I am passionate about promoting educational equity through innovations and best practices for learners in underserved communities.
Oladimeji Fatoki has six years of experience in the nonprofit sector and earned a Bachelor's of Science (Education) in Social Studies with First-Class Honours from the Tai Solarin University of Education, Ogun State, Nigeria. He is a committed fellow with Teach For Nigeria and the Young African Leaders Initiative (YALI) Regional Leadership Center (RLC) West Africa. Oladimeji teaches leads and impacts in a public-primary school in an underserved community in Ogun State, Nigeria to end educational inequality by facilitating 21st-century skills of numeracy and literacy. He has impacted over 300 pupils who are developing morally, academically, psychologically and socially. He collaboratively worked with peers to train over 100 teachers in effective instructional delivery and has empowered 50 youths in the community.
Previously, Oladimeji worked as Project Coordinator at Hindsight Development Organization to advance the active participation of youths in community engagement e.g sensitizations, civic engagement. He had served as an Assitant Information Protocol and Public Affairs Officer, Vice Chancellor's Department at Al-Hikmah University to advance its public taste. Oladimeji worked with community-based Organization and led a team of 150 Emergency Management Vanguards (NEMA) to sensitize over 3000 populace on emergency management and disaster prevention.
Oladimeji has extensive volunteer work serving as a social educator and programme coordinator for several groups, including INEC, Fourth Biennial Conference of Pro-chancellors of State Universities in Nigeria, 2nd TASUED-UCC Interdisciplinary Conference, Nigeria. Oladimeji founded and served as the President of the National Social Studies Students Association of Nigeria with over 50,000 students.
Through these experiences, he developed strong human relations, analysis, critical thinking, problem-solving, creativity, teaching, project coordination and implementation skills. Oladimeji enjoys focusing on the topics of quality education for all, gender equality, civic engagement, global citizenship, leadership, and has a strong passion for research and youth empowerment.
Why do you want to be a part of the HundrED Community?
I feel engaged, loved, and connected to the HundrEd Community to sharpen the pedagogy in education, create effective lasting solutions to the problems of education and making all learners irrespective of their socio-economic background have access to quality education. I wish to work in synergy with cross-sector leaders and share innovations to deepen our impact in our varied professions; this will help in improving the sustainable development goals.
How can education support students to flourish?
I hold a strong preference to the saying, "Education is the most powerful weapon which you can use to change the world." Nelson Mandela. Education helps students to foloruish by reimagining a world of opportunities; a just and egalitarian society, it increases the learners cognitive, affective and psychomotor domain to be creative in solving contemporary problems affecting human beings and their environment. It is when students enjoy the learning, unlearning and relearning of the 21st-century skills Education has to offer would they fully discover their potentials and put it to practicable works by exploring their body, soul and mind together for sustainable development.
What role does innovation play in education change?
Play in education changes the barrier that affects the teaching-learning process. Such barriers include a teacher-centred approach, rigid learning environment, stereotype threats, lack of connection in learning, outdated learning strategies, etc. The innovation play in education helps teachers to fully understand the characteristics of learners, create a welcoming environment, exhibit compassion, courage, empathy, ubuntu, collaboration and act as a teacher- leader. It helps bother teacher and learners understand themselves better and learners see teachers as role models. Learners will be free to relay school-home problems with teachers and they both find ways to solve the problems as it affects learning. The eagerness on the part of learners to learn and creativity they would adopt would be top-notch to launch them into a high level of academic and non-academic performance.
Three HundrED innovations you love. (and Why?)
Leadership: This will help to bring innovations using different approaches to combat injustices facing our community. The attainment of the country's national goals is possible when right set of leaders are developed, groomed and transformed. There will be meaningful and harmonious living in the society.
Career Skills: Learners will help to relate the theoretical approach to practical terms in order to discover their passion that will outlast them. They will be able to put into practice their talents and potentials in solving a problem in their immediate society.
Educator Training: By providing empowerment for teachers and educational stakeholders, will fast forward the goal of educational equity. Bringing more innovate teachers on board and equipping them with the right skills and knowledge they need to enhance best classroom practices.
Three innovations you would love for HundrED to know about. (and Why?)
Offline learning to combat education inequity during by Covid-19. https://teachforall.org/
The use of educational technology to engage learners. https://teachfornigeria.org/
Distribution of welfare packages to learners to help fight hunger. https://yaliwestafrica.net/rlc/