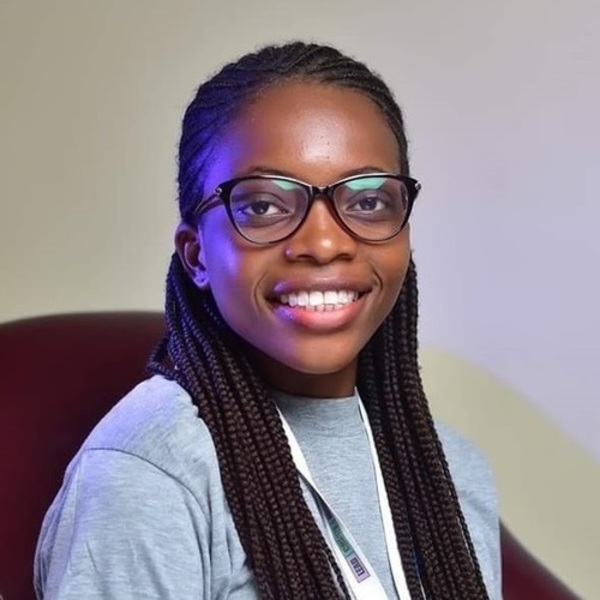 Ambassador
Blessing Akpan
Nigeria
Google Certified Educator | Founder, The Innovative Child Network | Ambassador for HundrED.org
My name is Blessing Akpan, an Undergraduate student studying English Education at the University of Uyo, Nigeria. I have always been keen on how our educational system runs and better ways to provide learning opportunities for children both in privileged and under-privilege communities. At a very young age, I have imagined the amazing things technology could do for our children and grew up to be particularly interested in personalized and skillbased learning.

Growing up in my local community, I realize children tend to learn best when they are made to do it, and when they made to apply what they have learned. This however inspired my innovation; The Innovative Child network for Skill-based Education. At TICNetwork, we focus on building skill-based learning among kids. We do not just train and mentor, but create a platform to allow these kids to share their knowledge with other children through offline training, online webinars, and boot camps. Besides, skills development brings about a progressive and prosperous society, and every person, including children and teenagers, have a part to play in building the society.
Our mission is to leverage skill-based learning to grow a formidable network of young innovators, building relevant skills to enable them to contribute meaningfully to sustainable development while tackling the Global learning crisis.
My passion in the areas of educational technology has led me to explore Google tools and leveraging on them to foster digitalization in Education. I am problem-oriented, versatile and I believe that every person has a part to play in creating a better world.
I am a fellow of the Policy Alert's Emerging Voices Program, Harmattan Cohort 2018, 2019 Learners' Voice of World Innovation Summit for Education (WISE) and African Young Leader (class of 2020) of Teennation. Also Scholar at Youth-In-Education Mentoring academy as well as a Telemachus Youth (2020 cohort) of the Global Thinkers Forum.
Why do you want to be a part of the HundrED Community?
I believe in changing the world, man must not think that he wields all the power to do so, and though we could individually impact the world in our various ways, a collective effort brings not only about sustainability but greater impact.
Meeting a couple of community members in HundrED and experiencing the passion that drives everyone to become a change agent in the area of education strengthens my hope that I do not fight alone. I have always wanted to be part of the HundrED community because I see my passion and objective resonating well with its mission.
I am excited to be part of a community with continuous engagement, collaboration, and dedication, to bring positive change to education all over the world and create opportunities for children to flourish and live up to their potentials.
How can education support students to flourish?
Education, as suggested by Martin Luther King Jr., is not only intelligence but is also character. It imparts technical knowledge in various fields, allowing students to engage intently on a wide variety of subjects. However, education goes beyond just imparting knowledge. It is the key to developing a range of skills that are equally important to the overall well-being and excellence of students.
An educational environment provides structure and discipline to the lives of students, two qualities that are essential in nurturing organizational skills. It shows students good habits both in private and public settings, and the ways and benefits of following them. In this way, it helps students become not only efficient in the organization of their lives and work, but also cultivates the confidence to become conscientious citizens of society.
Furthermore, education provides several emotional competencies integral to character development. It shows students the richness in diversity, and how to respect differences between people. It thus helps foster inclusivity and underlines the importance of working together in diverse teams. Education is central in broadening one's perspectives to understand the problems between different groups of people across the world and is hence an enabler in students becoming global citizens.
What role does innovation play in education change?
Innovation in education allows individuals to think not only intently but also critically. It brings about both qualitative and quantitative changes; qualitatively, it leads to better knowledge and more effective skills. Quantitatively, innovation in terms of curriculum development, new methods of student engagement, curriculum innovation etc. can lead to better retention, improved learning outcomes, maximization of cost and time efficiency and volume of information learnt. Online learning, MOOCs, virtual and remote laboratories thus provide for a blend of knowledge about problems, and the accompanying skills for engaging with them.
Innovation in education not only leads to better outcomes in the short run, but also leads to further innovation and improvement in society in the long run. Innovations in education provide the necessary aids for students to uncover something new. Fostering innovation and new solutions have the potential to help increase the standard of living for people both in local communities, and for people around the world.
Three HundrED innovations you love. (and Why?)
Link Online Learners - When the world shuts down, LOL Linked it up. Following the outbreak of the Corona Virus with people being shut out of the world, LOL had served as an opening ground for young people from across different countries to interact, share their experiences and learn together.
Slam Out Loud - Finding our voice plays an important role in us realizing our potentials. And for children, the only I love how they empower children from low-income families to find their voice
Xtalks - What the world needs right now is hope and assurance that no one is alone in their struggles. Xtalks.org provides a platform for young people in the economically disadvantaged communities to tell about their stories and how they are living above their challenges thereby inspiring and motivating other young people out there.